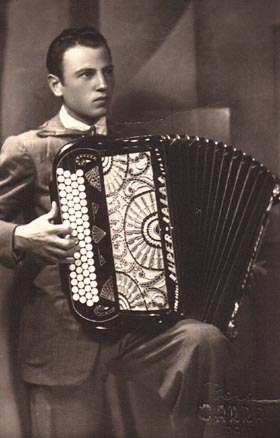 B R U N O A L L O D I
1 July 1915 - 25 July 2006

The picture (left) shows the dashing, young Italian accordionist, Bruno Allodi, at a time when he was one of Italy's most promising talents. Bruno, born 1 July 1915, was determined to learn to play the accordion and he would settle for being no less than the very best. In a quiet, sleepy hamlet called San Ilario, Felino, near Parma, Italy, this young man started a fascinating and fulfilling life that he could not even have begun to imagine from such humble beginnings.

As a young boy he would take the tram to his music lessons across the Italian countryside and dream of becoming a famous accordionist. Later, when he owned a bicycle, he would travel for days to play a "gig" - a far cry from the way the music scene operates these days! Yet he remembered every small detail till the day he died, with pride and affection. From a very early age Bruno worked with his father at carpentry, building and whatever was needed all the while saving for the treasured accordion lessons, alongside his friends and fellow students Gigi Stock and Nando Monica. Bruno was always remarkably resourceful, creative, practical and imaginative, in literally all walks of life, no matter how basic the materials or how limited the finances.

This is the story of Bruno Allodi and his family, their journey to England from Parma, Italy; their small beginnings in North London and the birth and growth of the Allodi Accordions Limited that we know today.

Bruno is greatly missed by his family everyday and by all who knew him.

Allodi Accordions is a well established family business that has endured some 65 years. It started with Bruno, Emilio's father, who opened an accordion sales and repair shop in Mountgrove Road, North London with his wife Rina (pictured right, aged 19) and their then only son, Claudio; Emilio followed later, born here in London. The two brothers, Claudio and Emilio, were both talented and passionate about music even as small children. Claudio became a professional accordionist and accordion teacher. Emilio, although an accomplished accordionist and pianist up until the age of 18, opened his branch of the business in South London in 1978. Since his twenties, Emilio has played bass guitar professionally in addition to running his own shop and teaching accordion and piano in the early years.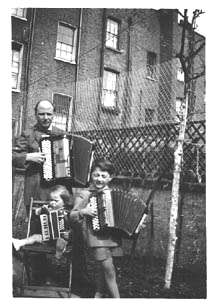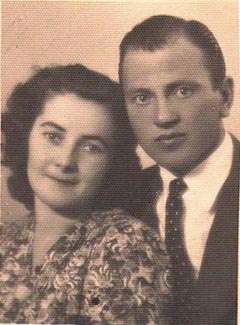 The picture left, shows Bruno with his two young sons at their North London home in the days before he had achieved his ambition of an accordion business of his own. Post war Italy offered little or no work, and Bruno, after a severe and debilitating illness did not possess the strength to continue playing as before. He and his brother Umberto, mentioned further down, were well known and respected in the Italian accordion world when someone came over from England, scouting for an instrument expert, Bruno was the perfect choice. Bruno also supplemented his income by working as a carpenter/builder, skills he excelled in.... (pictured 1943)

The two larger instruments you see played by Bruno and Claudio pictured left were made in the kitchen of their home. The shop in North London quickly went from strength to strength; this was in no small part due to the support he had from his wife Rina. Arriving in England a year or so after Bruno with savings of just £5 between them and unable to speak a word of English, she quickly made herself the hub of the family and business plan. No task was too big or too small; all this besides running the home and bringing up their two boys. Her day frequently involved cleaning and re-valving reeds along with other essential skills involved in the maintenance of the accordion. She possessed a fine creative talent all her own, not only in ideas pertaining to the accordion; aged around 70 she discovered an ability for water colour painting, and we have a treasure trove of her work hung around the family home! Rina passed away in December 2003. She had been very ill for some time and died shortly before her 84th birthday on the Christmas Eve. She is sadly missed by us all.



The photograph on the left was taken by a regular visitor and friend, Ken Hopkins (a man with a truly huge collection of pre-war instruments) in July 2006 after hours of chatting about the accordion with Bruno. He very kindly presented us with this snapshot and we only then realised that Bruno had been playing the very same accordion he had made totally by hand as used in the black and white picture on the left above, forty five years later!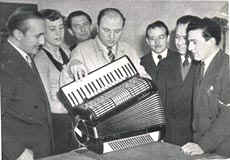 The photo shows Bruno in one of the London accordion specialist centres he worked in as a tuner and repairer.
Bruno pictured right working at the Accordion Development Centre, North London in 1954.

It was a source of great joy to his parents when from a very early age both Claudio and Emilio showed the desire and ability to follow in their father's musical footsteps. Claudio became a superb one man entertainer as well as running his own band for many years to date. Although Emilio has always been a part of that band, he focused mainly on building up his own shop and perfecting the repairing of the instruments under the guiding hand of his father.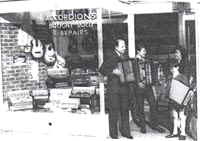 The Allodi family outside the shop in North London.

Emilio has a stack of memories of life in the shop in North London; his father teaching, repairing and of course, playing the accordion. Over the years, literally thousands of customers and enthusiasts would come to his father for help. On many occasions, the more audacious have been known to ring the doorbell after 10pm at night, when suddenly faced with the emergency of a broken reed whilst they were working in the North London area!

A fond memory from the Mountgrove Road shop days is that of a visit from the great Mexican player Flaco Jiminez with the BBC in 1984, pictured right with Bruno and Claudio. Claudio recalls "he was one of the friendliest men I have ever met and I was stunned at his incredible technique." Click on picture.



<The picture left is yet another example of Bruno's limitless creativity and resourcefulness; he designed and made the toy car proudly driven by Claudio, just as he made their prams and buggies I am reliably informed. Click on the picture to see it in full size and take a close look at the Super Salas accordion grill used on the front! These Allodis' waste 'nuffin'! For me however, it's the hat that gets it! It is typically Italian and oh soooo scary!!! (Think Sopranos)!